Schedule Your Apt
With Bonnie ASAP.

How Does Insurance Cover Our Services?

Ahhhhhhhh.
Far Infrared Sauna Therapy.

Food Intolerance:




the Silent Assassin
Wellness Links
NCI Well Rewards
Bringing the Wellness of Tomorrow, Today.
April 22, 2013
Dear Valued Subscriber,
Did you know that on produce labels, if you see a five digit number that begins with the number 8, the item was genetically modified?
Did you know that bicarbonate can bring down high BUN and creatinine levels? When your kidneys are functioning poorly, removing acid from the body is difficult. Bicarbonate helps keep acid in balance. Make sure the bicarb is sodium AND potassium. It is available as a tablet or powder.
Announcements -
Have a happy, healthy week. Bonnie and Steve Minsky
Take the Spring Cleanse 3-Day Challenge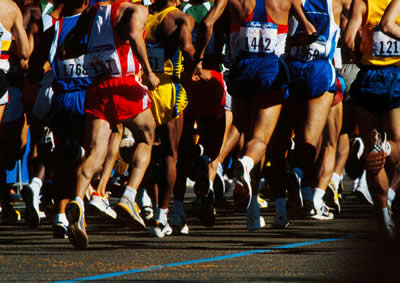 Help Cleanse Boston. Help Cleanse Yourself.
The tragic events in Boston rocked the nation and the wellness community. In an effort to heal Boston, as well as ourselves, we are asking that you download a FREE copy of Spring Cleanse 3-Day Challenge. This is a safe, gentle, and smart food cleanse.
For every download, we will donate $1 to Playworks Metro Boston, an official charity of the Boston Marathon (up to $500).
To download your free copy, Facebook users please click here.
Non-Facebook users please click here.
Burst the Juice Cleanse Bubble!

Burst the Juice Cleanse Bubble with Carolyn Martinelli
EPIC BAR: Perfectly Balanced Snack Bars

For those of you who know us well, we have never been big fans of energy and snack bars. Admittedly, they are sometimes a necessary evil.
We are happy to say that we have found a product that not only has real ingredients, but is balanced with lean protein, healthy fat, and low carb.
EPIC Bar comes in bison, beef, and turkey flavors. We like the bison and turkey the best. The bison is grass-fed, the beef is organic, and the turkey is humanely raised without antibiotics or hormones.
Go to
epicbar.com
to find them in your area or you can order them from our office (stop in or call; not available at our website yet).
April Sale - 20% OFF
Super Omega-3 Gems Fish Oil 130 Softgel Bonus Pack
Culturelle
Lactobacillus GG 30 Vegicaps
Twinlab
Daily One Caps with Iron
Daily One Caps without iron
*Some manufacturers do not allow us to post sales or discounts at our website. We do, however, apply all discounts before a transaction is completed. Email us for prices when visiting our website.
Order Here.
eNews Updates (access for all)

This week's topics:
NCI Well Connect (Subscription Only)

Why NCI Well Connect?
Do you feel overwhelmed by the avalanche of diet and lifestyle information you are exposed to? Do you feel like there is never enough time to read up on all of it? NCI Well Connect can do it for you.
Utilizing our decades of clinical experience to discern what is fact or fiction, we pore over 400 journals and media weekly to find the ideal nutrition and lifestyle tips that will motivate you to adhere to, or improve upon, your wellness goals.
NCI Well Connect is your weekly nutritionist and wellness companion.
This Week's Topics Are:
The Value of Pea Protein.
Maladaptive Eating Disorders Part 3: Boredom Eating
Calorie Restriction or Bariatric Surgery.
Is Reading in the Dark Bad for Your Eyes?
New Dairy-Free Coconut Ice Cream.
DEET Alternatives
Vegan Vitamin D3
First-Line Therapy for IBS.
What Is Locavorism?
Could Breathprints Overtake Serum and Urine Screening?
eInspire
Please click here to read a recent issue of NCI Well Connect.
In addition to getting 90 percent more than our free eNewsletter, you have free access to our self-help Action Plan library and Natural Foods Shopping List (updated quarterly). The total value of these items exceeds the subscription price. Click here for a list of our Action Plans titles. Order your subscription at our website here or at 847-498-3422.
Note to Service Professionals: a percentage of our subscribers are service professionals. They find our cutting-edge wellness tips greatly expand the scope of expertise they can provide their clientele.
Order NCI Well Connect Today