How Does Insurance Cover Our Services?

Ahhhhhhhh.
Far Infrared Sauna Therapy.

Schedule Your Apt
With Bonnie ASAP.

Food Intolerance:




the Silent Assassin
Wellness Links
NCI Well Rewards
Bringing the Wellness of Tomorrow, Today.
April 29, 2013
Dear Valued Subscriber,
Did you know that a study presented at the Scandinavian Physiological Society showed that Finnish students improved their cognitive speed by 25 to 30 percent and were in happier moods after receiving bright light therapy in their ear canals? The researchers postulate that training light into ear canals affect photosensitive brain tissue, quickening thought processes and reaction times.
Did you know that a recent study in Journal of Clinical Endocrinologyfound that a high level of vitamin D supplementation increases men's testosterone levels?
Have a happy, healthy week. Bonnie and Steve Minsky
Take the Spring Cleanse 3-Day Challenge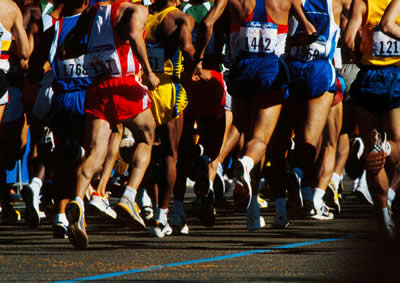 Help Cleanse Boston. Help Cleanse Yourself.
The tragic events in Boston rocked the nation and the wellness community. In an effort to heal Boston, as well as ourselves, we are asking that you download a FREE copy of Spring Cleanse 3-Day Challenge. This is a safe, gentle, and smart food cleanse.
For every download, we will donate $1 to Playworks Metro Boston, an official charity of the Boston Marathon (up to $500).
We have raised $300. Our goal is to reach $500. Please ask family, friends, and coworkers to download it as well!
To download your free copy, Facebook users please click here.
Non-Facebook users please click here.
Why Be Wary of Nanotechnology?
Wild West of Science Can Harm.
New research reveals that pure gold nanoparticles found in everyday items such as personal care products, as well as drug delivery, MRI contrast agents and solar cells can inhibit adipose (fat) storage and lead to accelerated aging and wrinkling, slowed wound healing, and the onset of diabetes. The research appeared in this month's Journal of Nanotoxicology.


The researchers tested the impact of nanoparticles in vitro on multiple types of cells, including adipose (fat) tissue, to determine whether their basic functions were disrupted when exposed to very low doses of nanoparticles.

They discovered that the human adipose-derived stromal cells -- a type of adult stem cells -- were penetrated by the gold nanoparticles almost instantly and that the particles accumulated in the cells with no obvious pathway for elimination. The presence of the particles disrupted multiple cell functions, such as movement; replication (cell division); and collagen contraction; processes that are essential in wound healing.

According to the researchers, the most disturbing finding was that the particles interfered with genetic regulation, RNA expression and inhibited the ability to differentiate into mature adipocytes or fat cells. "Reductions caused by gold nanoparticles can result in systemic changes to the body," said the lead researchher. "Since they have been considered inert and essentially harmless, it was assumed that pure gold nanoparticles would also be safe. Evidence to the contrary is beginning to emerge."

Steve: This is what we were afraid of. Allowing these substances into the marketplace prior to prudent safety studies is criminal. Progress comes with social responsibility and ensuring that new technologies are environmentally sustainable is paramount. The good news: when the nanoparticles were removed, normal functions were eventually restored.
Meal Replacement, Paleo Style

For those of you who know us well, we have never been big fans of energy and snack bars. Admittedly, they are sometimes a necessary evil.
We are happy to say that we have found a product that not only has real ingredients, but is balanced with lean protein, healthy fat, and low carb.
EPIC Bar comes in bison, beef, and turkey flavors. We like the bison and turkey the best. The bison is grass-fed, the beef is organic, and the turkey is humanely raised without antibiotics or hormones.
Go to
epicbar.com
to find them in your area or you can order them from our office (stop in or call; not available at our website yet).
April Sale - 20% OFF
Super Omega-3 Gems Fish Oil 130 Softgel Bonus Pack
Culturelle
Lactobacillus GG 30 Vegicaps
Twinlab
Daily One Caps with Iron
Daily One Caps without iron
*These manufacturers do not allow us to post sales or discounts at our website. We do, however, apply all discounts before a transaction is completed. Email us for prices when visiting our website.
Order Here.
eNews Updates (access for all)

This week's topics:
NCI Well Connect (Subscription Only)

Why NCI Well Connect?
Do you feel overwhelmed by the avalanche of diet and lifestyle information you are exposed to? Do you feel like there is never enough time to read up on all of it? NCI Well Connect can do it for you.
Utilizing our decades of clinical experience to discern what is fact or fiction, we pore over 400 journals and media weekly to find the ideal nutrition and lifestyle tips that will motivate you to adhere to, or improve upon, your wellness goals.
NCI Well Connect is your weekly nutritionist and wellness companion.
This Week's Topics Are:
Bored at Work Can Be a Positive.
Night Eating Syndrome
Stearic Acid and Magnesium Stearate
Older Women and Excess Carbs Don't Mix.
Researchers: Impossible to Overload on This Nutrient.
Tasty Dried Soups
Migraine Spray
Gluten-Free Soft-Baked Cookies
Therapy for Multiple Anxiety Disorder
Are Those Black Lines on My Grilled Meat Harmful?
eInspire
Please click here to read a recent issue of NCI Well Connect.
In addition to getting 90 percent more than our free eNewsletter, you have free access to our self-help Action Plan library and Natural Foods Shopping List (updated quarterly). The total value of these items exceeds the subscription price. Click here for a list of our Action Plans titles. Order your subscription at our website here or at 847-498-3422.
Note to Service Professionals: a percentage of our subscribers are service professionals. They find our cutting-edge wellness tips greatly expand the scope of expertise they can provide their clientele.
Order NCI Well Connect Today
Burst the Juice Cleanse Bubble!

Burst the Juice Cleanse Bubble with Carolyn Martinelli