Schedule Your Apt
With Bonnie ASAP.

How Does Insurance Cover Our Services?

Ahhhhhhhh.
Far Infrared Sauna Therapy.

Food Intolerance:




the Silent Assassin
Wellness Links
NCI Well Rewards
Bringing the Wellness of Tomorrow, Today.
May 6, 2013
Dear Valued Subscriber,
Did you know that according to a recent study in American Journal of Clinical Nutrition, the more sodium you consume, the more magnesium is leeched from your body?
Have a happy, healthy week. Bonnie and Steve Minsky
Spring Cleanse for Boston Ends at 5PM Today!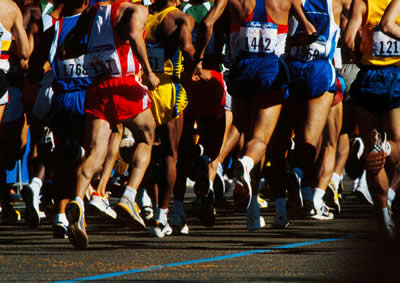 We Have Raised $420 of our $500 Goal!
The tragic events in Boston rocked the nation and the wellness community. In an effort to heal Boston, as well as ourselves, we are asking that you download a FREE copy of Spring Cleanse 3-Day Challenge. This is a safe, gentle, and smart food cleanse.
For every download, we will donate $1 to Playworks Metro Boston, an official charity of the Boston Marathon (up to $500).
Help us reach our goal of $500. Please ask family, friends, and coworkers to download it as well!
To download your free copy, Facebook users please click here.
Non-Facebook users please click here.
Don't Overlook This Cardiac Killer.
Sublinical Thyroid Dysfunction Scantily Screened.
According to a study of a half a million subjects presented to the European Congress on Endocrinology, subclinical

hyperthyroidism is associated with a 20% increased risk for cardiovascular mortality, primarily driven by heart-failure deaths. Hyperthyroid, not to be confused withhypothyroid, is an overtly active thyroid, whereas hypothyroid is underactive.
While primary-care doctors and family practitioners are becoming mindful of this issue, awareness is still woeful.
An overactive thyroid is far less common than hypothyroidism, affecting 1.3% of the population (versus 4.6% for hypothyroidism). While hyperthyroidism can lead to cardiovascular problems, it actually reduces cholesterol levels, which is why it is so often overlooked.
Hypothyroidism, on the other hand, increases cholesterol levels, which is why it is diagnosed more often, but still not enough. A recent study found that in patients with high cholesterol, only 50% were screened for subclinical thyroid dysfunction. Although guidelines state that thyroid dysfunction should be included in the diagnosis for new-onset dyslipidemia, the practice of screening in standard clinical practice seems to often be overlooked.
The take-home message is that if you have a family history with any thyroid problem or have any signs of thyroid problems, you should go for a checkup. Family doctors need to be aware that any sign of thyroid abnormality can affect your health, and you should act accordingly.
May Sale - 20% OFF
Pro Flora Chewables
Twinlab
B-12 Dots
*These manufacturers do not allow us to post sales or discounts at our website. We do, however, apply all discounts before a transaction is completed. Email us for prices when visiting our website.
Order Here.
EPIC BAR: Putting the P in Paleo

For those of you who know us well, we have never been big fans of energy and snack bars. Admittedly, they are sometimes a necessary evil.
We are happy to say that we have found a product that not only has real ingredients, but is balanced with lean protein, healthy fat, and low carb.
IF YOU LIKE JERKY, YOU WILL LOVE THESE!
EPIC Bar comes in bison, beef, and turkey flavors. We like the bison and turkey the best. The bison is grass-fed, the beef is organic, and the turkey is humanely raised without antibiotics or hormones.
Go to
epicbar.com
to find them in your area or you can order them from our office (stop in or call; not available at our website yet).
eNews Updates (access for all)

This week's topics:
NCI Well Connect (Subscription Only)

Why NCI Well Connect?
Do you feel overwhelmed by the avalanche of diet and lifestyle information you are exposed to? Do you feel like there is never enough time to read up on all of it? NCI Well Connect can do it for you.
Utilizing our decades of clinical experience to discern what is fact or fiction, we pore over 400 journals and media weekly to find the ideal nutrition and lifestyle tips that will motivate you to adhere to, or improve upon, your wellness goals.
NCI Well Connect is your weekly nutritionist and wellness companion.
This Week's Topics Are:
Why You Can't Stop Eating Potato Chips.
Aspirin: Gauging GI Risk Versus Cardiac Reward.
Lentil Chicken Salad
Pre-Grocery Shopping Tip
Conventional Wisdom About Wound Healing Questioned.
Three Organic Trader Joes Product Suggestions
Vegan Burger Stamp of Approval
Nutty Nut Butters
Top Suntan Lotion
When Yeast Infection Is Not Your Typical Candida.
Downside to Facebook?
Exercise Heavily? This Vitamin Is For You.
Is Your Beach Safe?
eInspire
Please click here to read a recent issue of NCI Well Connect.
In addition to getting 90 percent more than our free eNewsletter, you have free access to our self-help Action Plan library and Natural Foods Shopping List (updated quarterly). The total value of these items exceeds the subscription price. Click here for a list of our Action Plans titles. Order your subscription at our website here or at 847-498-3422.
Note to Service Professionals: a percentage of our subscribers are service professionals. They find our cutting-edge wellness tips greatly expand the scope of expertise they can provide their clientele.
Order NCI Well Connect Today
Menopause Not "One Size Fits All".

One of the perks of being a NCI Well Connect subscriber is that you are granted monthly access to our Action Plan Library (27 plans with a total value over $200) and Special Reports.
The perk comes in handy when you are trying to address menopausal symptoms. A study in the May issue of Menopause suggests that a single approach to managing menopausal symptoms is likely to be unsuccessful. Only an individualized approach is suggested. Our Smart Menopause Action Plan explains myriad therapies and techniques not just for mitigating, but preventing the onset of symptoms. You can find which one(s) are best suited for you.
If you are not an NCI Well Connect subscriber, you can purchase Smart Menopause Action plan
separately here
.
For NCI Well Connect subscribers, it is free by email request.
Juice Cleanse Star Will Soon Fade.

Burst the Juice Cleanse Bubble with Carolyn Martinelli